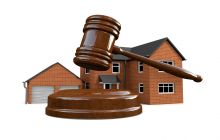 While there is a somewhat murky picture emerging of Britain's wider housing market, one sector which remains in unequivocally good health is that of the property auctions. A set of figures recently published by the Essential Information Group highlights the point that the market actually set new records in the final weeks of last year. The headline finding of the report was that the volume of lots offered in December increased by over 12 per cent, while the total number of lots sold rose by some 9 per cent. To put the statistics in some sort of context, the volume of lots offered and sold was the greatest ever recorded for the month of December. The public's enthusiasm for property auctions is understandable: properties sold in this market are often comparatively inexpensive, there's no chain and the sales process is completely transparent. Whether you are an investor who plans to let out the property or a potential owner-occupier, though, there are some golden rules for succeeding at property auctions. In this article, the team at Nethouseprices sets out some of the most important considerations.

1. Have your finances in place

If you are going to need a mortgage, it's vital that you obtain an agreement in principle for a loan from your bank or building society. There are several reasons for talking to a loan arranger as soon as possible. Firstly, if you plan to let out any house that you purchase at auction, you will find that there are new prudential rules around buy-to-let mortgages, and you will need to satisfy a lender that you fit the fairly exacting loan affordability criteria. Secondly, lenders usually have categories of properties, such as flats over restaurants, for example, for which they will not offer mortgage financing, and you need to be clear about what these are before you start bidding. Finally, you will typically only have around 20 days from the date of the auction to complete the transaction.

When calculating the funds you will require, do bear in mind that there will be significant expenses in addition to the purchase price. You need to think in terms of a conveyancing fee, the cost of a survey and the various property searches, architect's or builder's charges if work is to be undertaken on a house or flat, auction house administration fees, stamp duty and insurance.

While exploring the financial issues, it is crucial to note that the Government has introduced a set of new tax measures relating to investment properties. A stamp duty surcharge on second or rental homes came into effect last April and, as of the beginning of the next tax year, the amount of relief which landlords can claim from HMRC on their mortgage interest payments will start to be tapered. You should look carefully at whether you will be affected by these changes and, if so, what impact they will have on your income. If you have any doubts, Nethouseprices recommends that you seek professional advice from an accountant or lawyer.

2. Have a "dry run"

Property auctions can be overwhelming to the first timer and it is worth attending an event or two just to observe the atmosphere, procedures and the veterans at work. This experience will you give confidence and help you cope with the dizzying speed with which these transactions are executed, in comparison to traditional real estate sales. Being fully acclimatised to these events should also lower the risk of your getting carried away and bidding more than you can realistically afford. Details of upcoming auctions can be found at: http://www.propertyauctionaction.co.uk/

3. Do your research

Once you have identified a property which meets your criteria, you need to carry out a great deal of research. Fortunately, some of the initial work can be carried out at your own desk. You can, for example, use the Nethouseprices online service to ascertain average sold property prices in the area neighbouring your target house. If you are hoping to let out your acquisition, check the current rents in the area. Being armed with this information will prove invaluable when you are deciding on an upper bidding limit and working out whether you can generate any profit and/or income from your investment.

If you are confident that a property warrants further attention, you should arrange a viewing. Don't be tempted to omit this step, even though you will hear tales of professional investors who seldom visit houses they plan to buy. These buyers usually have the resources to absorb the costs of a mistake. For the first time investor, it's critical that you do your due diligence and confirm that the auction particulars are a fair and accurate reflection of the property. Bringing along a builder or architect to this initial viewing is also a sensible precaution, since they can advise you on the extent and cost of any work needed to get the house up to an acceptable standard. Your lender will typically insist on a survey being carried out. If you ultimately opt not to buy the property, then you will lose the costs associated with the survey. However, it's a worthwhile exercise since it can help you avoid extremely expensive mistakes and will give you an insight into any structural issues which might explain why the house is being sold at auction rather than by an estate agent.

4. Hire a solicitor

You will be given a legal pack by the auctioneers. The importance of having a solicitor review this cannot be overstated. As well as doing the appropriate checks on vital points like the title deeds, land registry and local authority searches, charges on the property and leases, a lawyer can make sure the conveyancing is done properly, so that your title in the property cannot be contested. These services don't come cheap, but they can save you a fortune in the long term.

Visit us again soon for news, commentary and analysis of the latest property market developments and to access property resources, such as our tool to check sold property prices in your area.